My kit
This is a breakdown of all the day to day equipment I carry/use on a day to day basis. This list will be updated and tweaked over time.
---
hardware
💻 15" 3.1Ghz i7 MacBook Pro The laptop I use for contracting. My 9-5 Machine. I've used Macs at work when permitted for years. My work flow is catered around Macs & I prefer them. I specced this high because I wanted it to last & run VM's as I develop & test projects.
AirConsole Every network engineer has a console adapter. I decided to invest in a wireless one due to the volume of site visits I do that usually require consoling onto numerous devices. I've never done a job with another Network Engineer where they haven't noticed this, and asked where I got it. Everyone is impressed. As a bonus, you can plug it into a wired network and broadcast an SSID you can connect to as well! Switch & WLAN access all in one plug!
📱 iPhone X - Silver - 256GB Hardly a surprise based on my laptop choice. This is my Camera, my anywhere internet, my fitness coach & a million other uses. For better or for worse it's the device I check first thing and last thing in the day. It's an iPhone 🤷‍♂️ You kinda know by now what you're going to get.
📱 iPad Pro 1st Generation 128GB More and more it's becoming my 5pm - Bedtime device. Great battery power, light weight. Still used more my me for consumption and light personal creation (Blog writing, Photography etc) than a true 'real' workhorse, but is becoming more capable with each generation and software update.
⌚️ Apple Watch Series 3 GPS+Cellular Space Black Stainless Steel Recently upgraded from my Series 0 after 3 years service. the 3 turns the device into what the 0 promised it would be. Quite instant notification access and easy access to basic info. I think it's great.
⌚️ Southern Straps Green nylon Apple Watch Band When I wore a traditional watch, I always used NATO style straps. Apple does Nylon bands but they're not exactly what I want. Southern Straps is closer to a traditional NATO strap style and is awesome quality. I now own several different colours but the green is my daily driver. Their support is fantastic and they quite often put extra bands in your order! 🤫
🎒 Timbuk2 Clark Pack I'm pretty obsessive about finding the perfect backpack. I used to have a satchel but gave up when I was getting back & leg pains because my pack weight wasn't evenly distributed. I wanted a backpack that could serve work, casual use and travel. I originally tried a Poler Rolltop 2.0, but found it leaned too much towards casual rather than travel or work.
My original criteria was
✔️ Rolltop
✔️ Laptop section
✔️ Separate zip section
This bag cemented the my love of a rolltop bag. the versatility to adjust bag size & how useful they can be is awesome. When I upgraded to the Clark, It was because
✔️ It was harder wearing material
✔️ As well as a Rolltop, it is horizontally expandable for compactness when not loaded up
✔️ A lot more pockets/sections for my gear
✔️ Much more comfortable straps and support
✔️ Inbuilt waterproof cover
And I think I've now reached backpack Nirvana. I can't think of any reason now I would try another bag. If I ever loose/damage wear out the Clark, I think it would be replaced with another Clark. it's that good.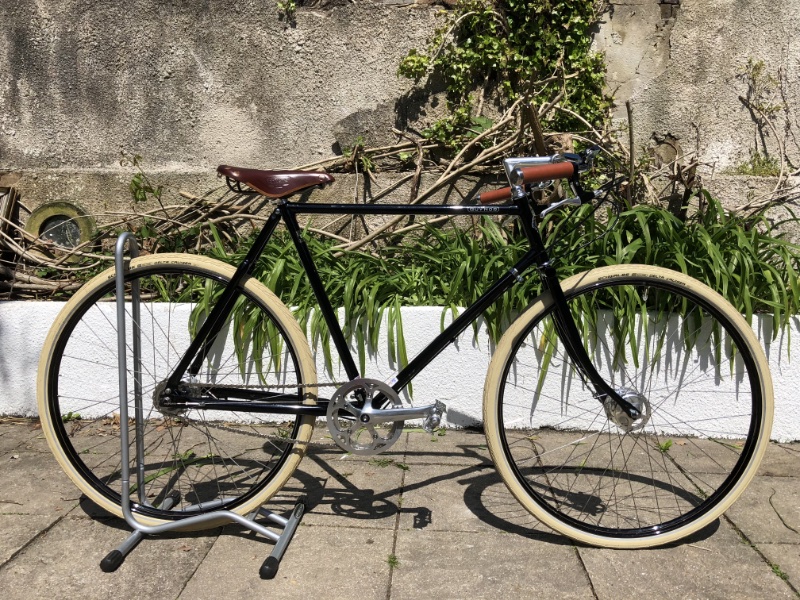 A total blind passion buy. I make no apology for it. Sometimes you just buy something because your heart tells you it wants it.
I wouldn't do any hard riding for it. It isn't a daily driver, but for summer rides around Dorchester & the surrounding countryside it's the perfect bike. Guaranteed also to look splendid parked outside a pub 😉🍻
---
Software
MacOS Applications
Office365 A requirement for corporate living. I use Outlook for my work based email. Excel/Word etc all used as required.
📥 Things3 My goals downloaded. I switched from OmniFocus to Things when version 3 was released. I haven't looked back. By far the best simplest expression of a GTD/Task Management I've ever used. I found OmniFocus too much. Too many dials and bells. I found myself playing with my workflow instead of logging my workflow to no benefit. Things I can get in and out.
📐 OmniGraffle Visio that doesn't suck…as much I'm not as big a fan of the latest version. Omni have made some real baffling decisions about how it deals with layout and sizes (For diagrams that have to be A3/A4) but they're slowly bring it back together. I'd love for Visio support to be better than it is, but that's more of a fault of MS not opening the standard up.
🐻 Bear If Things is my goals. Bear is my brain. I jumped from Evernote when the pricing got too much. They never did quite what I wanted as well. Bear has exactly what I need
✔️ iCloud Sync
✔️ Markdown
✔️ Tags
✔️ File Embeds
Now Things has a URL Scheme I can embed links for Projects between Bear & Things for tracking.
📄 Visual Studio Code Hands down the best most flexible editor I have ever used. From router configuration to writing Change Controls in Markdown, writing YML/Jinja2 for Ansible and inbuilt GIT support. It can handle it all. One of the best things Microsoft has ever done. Cross Platform. Open Source. I love it.
📄 BBEdit My previous Text file love. I keep BBEdit around because it excels at text manipulation, find & replace and performing Diffs in a way VSCode still can't come close to. It's gone from being a Swiss Army knife in my kit to a particular scalpel, but still great.
💭 MindNode I'm fairly new to MindMapping but have found it pretty useful for a bunch of projects I've applied it to so far. I'm still getting used to all the concepts but it definitely has helped me break down complex multi-part projects into different areas (Such as tasks, planning, who's involved, what devices I need etc) to give me a 'big picture' view. For Ansible projects I've used it to map out and keep track of variable and sub-variable names in scripts as well.
iOS Cross Platform Apps
All these are already mentioned in my MacOS section but have iOS applications I also sync with.
Things
Bear
Office 365
MindNode
iOS Exclusives
Productivity
📝 Paper I'm not a drawer. I'm not an artist, but I am a scribbler. Especially when working through thoughts and planning out. Paper and its tools are really well thought out for me sketching out thoughts, meeting notes and rough network diagrams if I'm planning or auditing. Bear has built in drawing tools, but they're so basic as to be pretty much useless. Paper knocks it outta the park.
📑 Scanbot A magic way of converting paperwork to PDF. Fast and well thought app. All my private/Personal paperwork gets scanned + converted.
iA Writer My love of MarkDown continues. I use it on the ipad instead of Bear for long form writing (Such a this page here!) No subscription, has all the features I need and is simply presented.
🖥 Remote Access Apps
Screens Remotely access my Mac. I wouldn't buy the MacOS version (I think its overpriced vs the in-built MacOS tools for my usage) but on iOS it's a great experience.
Microsoft RDP A necessary evil. Not the greatest app and not always updated promptly, but it does what it says on the tin.
Prompt Good SSH terminal from a good developer. I must admit though the recent fate of their FTP client for iOS + how niche this product must be makes me worry about its future. I'm not a coder, so I don't need anything more bloated.
### Photography 📷
Darkroom Great put together simple photo editor for iOS. Every basic tool you can imagine well crafted. Supports RAW and integrates with a camera app called…
Halide As the native iOS camera still doesn't support RAW, you need a 3rd party app to shoot RAW. Halide is more than a basic app wrapped around unlocking an OS feature though. It has a great well planned GUI vs other apps out there and is well supported.
Pixelmator I don't love the iOS version or its GUI, but it has a great heal tool for when it's needed. That said, if Darkroom added healing it'd be deleted in a hot minute.